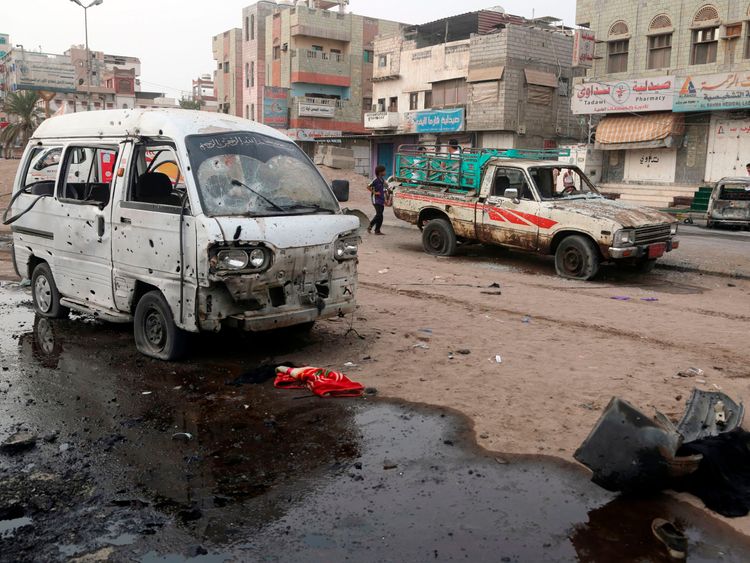 Scores of civilians, mostly children, were killed and injured in an airstrike on Thursday by USA allies on a bus in a crowded market in northern Yemen, according to health officials and global aid agencies.
He added that this operation was "implemented in accordance with global humanitarian law and customary rules".
The hospital also received 48 wounded people, among them 30 children.
The Saudi-led coalition, meanwhile, said it targeted the rebels, known as Houthis, who had fired a missile at the kingdom's south on Wednesday, killing one person who was a Yemeni resident in the area.
In July, a Badr 1 missile was sacked at Jizan Economic City, where Saudi Aramco is building a 400,000-barrel-per-day refinery.
In a statement Thursday, the Saudi-led coalition said the strike was a "legitimate military action to target elements that planned and carried out" an attack that targeted civilians in Jizan, a border city in southwest Saudi Arabia.
"The attack carried out today by the coalition in Saada was against those people responsible for the ballistic missile attack last night ... the allegation [that civilians were targeted] is coming by the Houthis, and it's still an allegation", Col Al Maliki said.
CNN reported that dozens of children under the age of 15 were killed in the attack, and many more were injured, according to reports from Yemeni officials and the Red Cross.
He accused the rebels of using children as "tools and covers for their terrorist acts".
Did Saudi Arabia Just Threaten Another 9/11 Attack on Canada? Well, Kinda
Soon after, the Saudi ministry of media said it had shut down the account amid an investigation into a complaint over it. There are believed to be more than 12,000 Saudi students studying in Canada.
"Grotesque, shameful, indignant. Blatant disregard for rules of war when bus carrying innocent school children is fair game for attack", Jan Egeland, head of the Norwegian Refugee Council, said in a Twitter post.
Houthi media broadcast what appears to be graphic scenes of the aftermath, depicting children drenched in blood and burned black by the blast.
But on social media, critics noted that other coverage of the air strike in the United States and Britain-which also supports the coalition-failed to acknowledge the countries' involvement in the war.
Saudi Arabia, the driving force behind a coalition of its Arab neighbors, saw no reason to apologize, however.
There was a horrifying attack Thursday in Yemen - a Middle Eastern country torn apart by a 3-year-old civil war.
The Iran-backed Houthis have in recent months ramped up missile attacks against Saudi Arabia, which Riyadh usually says it intercepts.
Wednesday's attack brings the tally to 167 rebel missiles launched since 2015, according to the coalition, which that year joined the Yemeni government's fight against Houthi rebels.
The war in the impoverished country has left almost 10,000 people dead and unleashed what the United Nations describes as the world's worst humanitarian crisis.